In this article Jakob Verhoef discusses how to start the ISO 55000 journey on the right foot.
This is the first in a series of 13 articles on Implementing ISO 55000.
There are a number of questions that people are asking regarding ISO 55000:
Our organisation is required to comply with ISO 55001 – where do we start?
What is ISO 55000?
Isn't Asset Management just common sense?
Will being certified against ISO 55001 improve our brand value?
What are the absolute minimum requirements to get certified against ISO 55001?
Is ISO 55000 really relevant to my organisation – we already know how to look after our assets?
In this series of articles, we will address these questions, and the following topics:
What is ISO 55000?
Foundation Documents
Organising for effective AM (including Leadership)
Key AM Processes
AM Competence and Culture
Asset Management Data and Decision Making
Roadmap to ISO 55001 compliance
Becoming certified as compliant against the requirements of ISO 55001
In this series we will provide an overview of what the ISO 55000 series of standards is all about, what the value of implementing an Asset Management System is, and how you would go about setting it up.
In this introductory article we will discuss how to start the journey towards implementing an ISO 55001 compliant Asset Management system on the right foot and what you need to consider before you start. Here is a typical approach you may follow to starting the journey:
Gain an understanding of the fundamental principles of Asset Management, Asset Management Systems and ISO 55000
Understand the fundamentals and value of implementing Asset Management Systems in general.
Pause for a minute and consider will this really add value to my organisation?
If yes – how do I start the journey on the right foot?
Gaining an understanding of asset management
Although good Asset Management sound like common sense, the knowledge of what a comprehensive Asset Management system entails is not all common knowledge and some investigation or study may be required to understand the fundamentals. It is recommended that the leadership team have an understanding of the subject in order to guide the organisation down the correct path. Without this knowledge, there is a risk that the organisation over or under estimate the time, effort and resources required to achieve compliance. The following resources are essential sources of information about ISO 55000 and Asset Management and should be your starting point:
The standards itself. We recommend that you buy (and yes, read) the full suite of standards, ISO 55000, 55001 and 55002:

ISO 55000:2014 – Asset management – Overview, principles and terminology
ISO 55001:2014 – Asset management – Management systems – Requirements
ISO 55002:2014 – Asset management – Management systems – Guidelines for the application of ISO 55001

This will provide an overview of the requirements but also provide some guidelines to the application of the standard.
The World Wide Web. Various sources exist including our video offering an overview to the ISO 55000 standard. Also refer to The Institute of Asset Management (theiam.org) and Asset Management Council in Australia (amcouncil.com.au).
Training. Consider attending a conference, training session or similar. In our experience the dollars spent on awareness training for leadership are recovered tenfold in alleviating uncertainty downstream. We offer a number of training courses surrounding ISO 55000 implementation.
The next section looks at a few fundamentals of Asset Management and the Value of Asset Management.
Fundamentals and value of asset management
A good place to start understanding what ISO 55000 is all about is to look at the definition of Asset Management as given in the standard overview document (ISO 55000:2014 – Asset management – Principles, overview and terminology). This document simply gives the definition of Asset Management as:
"Coordinated activity of an organisation to realise value from assets"
This sounds again like common sense, but there are more to this definition than meets the eye. E.g. what is the real meaning behind "coordinated" and what is real "value"?
In simple terms "Coordinated" refers to an organisation striving towards a common goal but also measuring progress along the way.
"Value" can mean different things to different organisations and part of this journey is to uncover what matters to your organisation and how to use your assets to achieve it.
To understand Asset Management is to look at the fundamental principles of AM as defined in ISO 55000:2014 namely:
Value – Assets exist to provide value to the organization and its stakeholders. An understanding of value and how your assets contribute to value is therefore important.
Alignment – Asset Management translates the organizational objectives into technical and financial decisions, plans and activities. Asset Management requires line of sight from organisational objectives through to tactical plans and measures.
Leadership – Leadership and workplace culture are determinants of value realisation. Asset Management requires management to take the lead and show commitment.
Assurance -Asset Management gives assurance that assets will fulfil their required purpose. This requires the organisation to measure progress and performance with discipline and purpose, and typically include setting up performance measures and performing periodic reviews and audits.
The value of asset management
What is the value of Asset Management or implementing an Asset Management System?
ISO 55000 suggests the following value can be gained from applying the standard:
Improved financial performance
Informed asset investment decisions
Managed risk
Improved services and outputs
Demonstrated social responsibility
Demonstrated compliance
Enhanced reputation
Improved organisational sustainability
Improved efficiency and effectiveness
The above are some generic examples of the value of good Asset Management but what is the real value in the context of your organisation?
What is the real value to my organisation?
Next, take a deep breath, pause for a minute to really understand the value you want to get out of this initiative. It seems the words "real" and "really" appears many times in this article – the reason for that is that if you don't really understand why you are doing this, you may start down the wrong track, on the wrong foot, expecting unrealistic or irrelevant outcomes. Note that this is not a only a 18 month project, it is a long term commitment that will require resources and commitment for the long term, and are bound to fail if the wrong expectations are created at the start, especially to senior leadership. A suggested starting point would be to develop a business case to determine and document the value of asset management – consider:
Which of the major risks in your organisation will be addressed through this approach? By how much will the risk be reduced?
What benefit could I gain from implementing an Asset Management system – e.g. increasing revenue, production or productivity?
What costs can I save by taking decisions that consider cost risk and benefit over the life cycle of an asset?
The diagram below shows some of the value drivers that could be considered: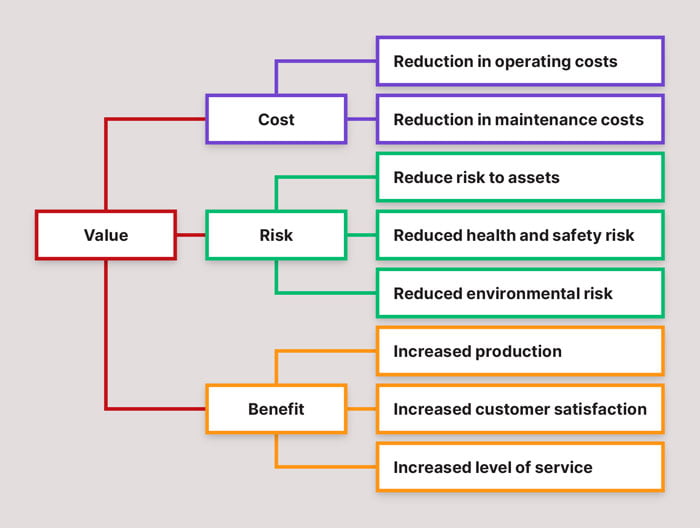 It may still not be 100% clear what the benefit will be to your organisation, but be sure to start this conversation before committing to the Asset Management journey.
Another aspect to consider is the cost and time required for implementing an ISO 55000 Asset Management system.
One way to get an understanding of value, cost, time and resources is to perform an ISO 55000 readiness assessment. Whether you want to do it yourself or get external assistance is up to you but be sure to get some experienced assistance if you don't have the experience internally.
Up to now we have covered some fundamentals of Asset Management and the typical value you can gain from implementing ISO 55000. What approach do you need to follow in order to start this journey on the right foot? The following section will look at a few basic steps you can use right at the start of the initiative.
Starting on the right foot
Consider covering the following basic steps before commencing on your asset management journey.
Leadership buy in – this is definitely a top down initiative. Make sure the leadership team has a good understanding what an Asset Management System is and the potential benefits. An introductory course or conference would be a good starting point.
Get input from stakeholders on what benefits they expect to gain from Asset Management and therefore what will the drive behind the journey be.
Get alignment internally – communicate, share and negotiate but make sure all internal stakeholders agree on what the major benefits will be and ensure that it matters to the organisation and constitutes real value.
Determine your approach to compliance with the standard. What application options exist?

Certification. Certification usually applies where regulators explicitly require certification or if there is a competitive advantage in certification.
Compliance. Aiming to comply but not certify, this may cost less but still have significant benefit.
Alignment. Also a lower cost option than certification but with some value gained.

Get agreement that funding and resources will be required for this initiative and create a clear picture of what will be required in order to minimise surprises down the track.
Build a roadmap for the journey. Do this by understanding / taking stock of what you have and what you still need to develop. This can be determined through an ISO 55000 readiness assessment. The output of a readiness assessment should give you a roadmap for the journey and may also uncover some benefit to the organisation.
In order to start on the right foot, make sure your organisation have a clear understanding of value and have the required buy-in and commitment right at the beginning of the journey.
The journey from here potentially include the following steps: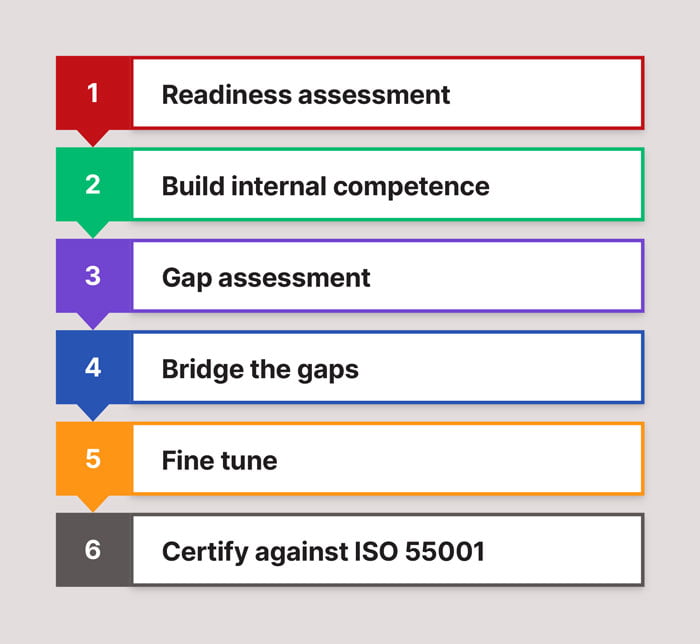 As stated earlier, the purpose of this series of articles is to provide some practical guidance on how to complete the journey. In future articles, we will explore the following topics:
What is ISO 55000?
Foundation Documents
Organising for effective AM (including Leadership)
Key AM Processes
AM Competence and Culture
Asset Management Data and Decision Making
Roadmap to ISO 55001 compliance
Certification
Looking for further training in ISO 55001 certification?
We offer a range of asset management courses, some of which specialise in ISO 55001 deliverables. If you are interested in reading more about our courses, you can do so by following the links below.