Our series has already discussed the ISO 55001 requirements for the Strategic Asset Management Plan and Asset Management Plans and also provided practical advice and templates that could be used to create both compliant and usable versions. This article remedies the situation, providing useful advice on how to establish an integrated planning approach that will generate cohesive planning documents. The ISO standards are deliberately not very explicit on this topic, so we are basing this on what we've seen work (and fail) in practice.
This is the sixth in a series of 13 articles on Implementing ISO 55000.
Our series has already discussed the ISO 55000 requirements for the Strategic Asset Management Plan and Asset Management Plans and also provided practical advice and templates that could be used to create both compliant and usable versions. In these earlier articles, we presented the following diagram to describe a compliant planning process without justifying it or examining the practicalities of implementing it.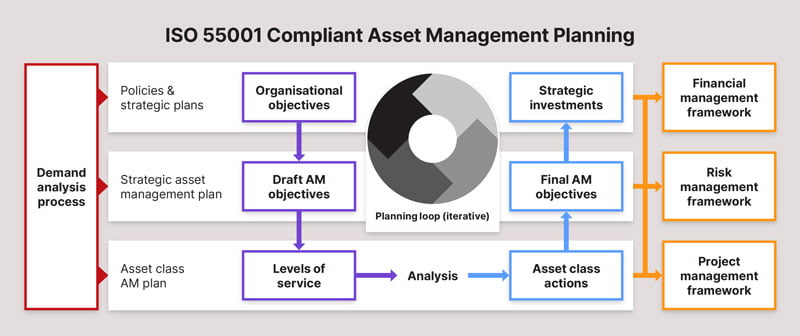 This article remedies the situation, providing useful advice on how to establish an integrated planning approach that will generate cohesive planning documents. We do need to warn you, however, that the ISO standards are not very explicit on this topic, so we are basing this on what we've seen work (and fail) in practice.
Starting from the top – the organisational strategic plan
The diagram above shows the organisational objectives as a given, but many of the corporate business plans or other organisational level strategy documents we see don't do a very good job of making these explicit. This is a critical first step, since it ensures that all of the remainder of the planning proceeds from a single set of requirements. To get it right, the organisation needs to spend some time understanding what it does and the environment it is doing it in. The relevant factors vary greatly with industry, but include external factors such as economic, social and environmental conditions and internal factors such as governance and culture. There are many ways to do this, but the Strengths, Weaknesses, Opportunities and Threats (SWOT) approach is a good way to start.
The analysis at the organisational level doesn't end there. An understanding of context leads to identification of the stakeholders, whose needs will be key to understanding the organisation's value proposition and setting appropriate objectives. A particular failing we have seen is to skip some of the stakeholders, resulting in an incomplete definition of value. Most people recognise their customers and owners as stakeholders, but forget about their regulators, contractors and internal employees, all of whom have a critical role in establishing value. In practice, you should have a proactive relationship with all of your key stakeholders and a deep understanding of their needs and objectives and how they interact with your own.
In our diagram above, these two activities (understanding context and engaging stakeholders) are part of the "demand analysis" process shown on the right and is the key to success in the planning process.
Getting the Strategic Asset Management Plan right
At the Strategic Asset Management Plan level, the demand analysis process is about understanding how the asset base works to deliver the organisational objectives (e.g. which systems are the most critical from each of cost, risk and performance perspectives) as well as the appropriate level of asset management maturity to manage cost, risk and performance. The various asset management objectives will fall out of this process and will reveal further stakeholders that must be engaged – for example, manufacturers and prime contractors when you wish to expand your assets and perhaps employees and unions when your market is contracting. Again, we've seen a number of organisations that don't recognise the importance of these stakeholders and therefore don't engage them early enough or deeply enough. A greater problem at this level, however, is the generation of "shelfware" – documents that meet the ISO 55000 requirements, but that are not really accepted or adopted by the organisation and therefore spend all of their time (at least, between audits!) sitting on the shelf rather than adding real value to the organisation. When we see them, they are usually out of date and any success is "despite" rather than "because of" the documents.
There are a number of reasons that organisations generate shelfware as follows:
Bolt-on documentation. Almost every organisation already has some form of corporate strategic plan, and many already have a range of subordinate plans for divisions, branches or other groups. These usually already include asset management tasks and objectives (even if not explicitly recognised) and staff are used to using them. When specific documentation to support the asset management system is "bolted on" to this framework, it becomes an unnecessary additional burden and there is a tendency to produce the required document and then shelve it and get back to business as usual.
Compliance without consideration. We often see organisations that have rushed into the implementation of ISO 55001 (or PAS 55) without spending enough time thinking about the appropriate structure for them. Their Strategic Asset Management Plans are compliant with the requirements of the relevant standard, but are not fit for purpose given the structure and nature of the organisation. For example, one organisation produced a very technical strategy document and then passed it to a group of regional managers that did not have the background to understand or apply it.
Excessive length. Many organisations make the document too long and then find that their people don't have the time to read and understand it or the organisation as a whole doesn't have time to maintain it.
Lack of engagement. If the Strategic Asset Management Plan is the product of a small asset management elite within a larger organisation, the staff that should be using it to guide their activities can lack the sense of ownership they need to encourage compliance. On other occasions, they are simply unaware that the document exists at all.
These issues are not new – similar problems emerge with any change to an organisation's key planning documents. Consequently, we have a good idea of what will work to solve them: design the asset management planning process. Some good steps:
Plan first, write later. The planning process itself needs to be at the heart of the activity. As we said in our Strategic Asset Management Plan article, the document is a communication tool. Start by designing a process that gets the right people in the room with the right information to genuinely understand the organisation's objectives and translate these into asset management objectives. This will usually occur through a workshop or series of workshops, and we suggest the following tips to get the best out of these:

Distribute useful pre-reading (the organisation's strategic plan, audit reports, KPI records, and so on) to attendees with a clear expectation they will be reviewed.
Formally assign responsibilities for additional preparation (e.g. operations manager to have the production plan on hand, maintenance manager to have the statutory maintenance requirements).
Consider using an external facilitator to provide an impartial mediator and secretariat for the process.
Formally minute the workshops/strategy sessions.

Reuse existing documentation. Have a critical look at the organisation's current planning documents. Do they work? If so, it is far better to incorporate an asset management section into them rather than to create a new document. Remember, ISO 55000 cares about the achievement of the intent of the requirements rather than the specific documents used.
Define the audience. Regardless of the specific documents in use, you need to have a very good idea of who the reader is for each document. This will allow the structure, content and length to be match to them and create a document that they are much more likely to actually use. For example, executives need to get to the heart of the matter very quickly and with a focus on the linkage to the organisation's objectives and the resources required to achieve them. Lower levels need more technical detail so they can execute their specific responsibilities.
Keep it simple, sunshine. Work out how to match the content to the audience. For example:

Executive summary for the senior executive (surprise!) so they can understand the key activities and the resources required.
Short body summarising the process followed (builds confidence in the outcomes) and outcomes reached.
Appendices with details for those who need them – minutes of the workshops, project plans for the strategic initiatives, stakeholder analyses and so on.
Diagrams throughout – a picture really is worth a thousand words.
The outcome of this process should be a relatively short document – a body of less than 10 pages – that forms part of an integrated suite of strategic-level planning documents and sets the asset management objectives that will be delivered by the detailed asset management planning to follow.
Building a set of asset management plans
Our planning process clearly shows how the asset management objectives flow down to the asset classes, usually in the form of a Level of Service table or similar. It also shows further "demand analysis" activity. In this case, the activity is to obtain a detailed understanding of the context in which the specific asset class is operating. A few of the relevant considerations include how hard it is working, the extent and quality of maintenance activities and the support environment. New stakeholders will again emerge, particularly maintenance contractors and specific equipment manufacturers or vendors, who must be engaged to understand the environment and appropriate actions that need to be taken. For example, a key question for electronics is usually "How long until these are obsolete?" and the relevant vendors are usually well positioned to help organisations with this.
Shelfware is again a common problem we see with Asset Management Plans, but our article "What does a good asset management plan look like?" addresses this issue with a good discussion of both content and structure, including options for different types of organisational structures. Consequently, we'll only touch on the highlights here:
Each Asset Management Plan should be short and visual, which can be achieved by using references to access other plans (e.g. the maintenance plan) or data sources (e.g. risk registers and full budgets) for those who need them.
Be clear on the audience and use the Asset Management Plan to tell the "story" of the asset that lets them understand and execute their responsibilities, including:

Internal staff – complete their allocated actions
Management – provide the resources
Other Asset Managers – understand what performance to expect from this asset class
Other specialists (e.g. Human Resources, Learning & Development) – understand what is expected of them
Above all, strongly resist the temptation to make the Asset Management Plan the repository for every single piece of information the organisation possesses on an asset! This is probably the number one reason for the creation of shelfware asset management plans and represents a significant lost opportunity for the organisations that succumb to it. There is no doubt that detailed information is valuable, but it needs to be kept in the right location for those who need to use it.
Conclusion
There is no one right structure for asset management planning documents. Building an integrated set of asset management planning documentation requires a structured process that must be designed, not bolted on to existing processes. Existing documentation that is working should be modified to meet ISO 55000 requirements, rather than supplemented with additional documents. Above all, the process must recognise that the act of planning is where the value is created. Whatever documents are used are merely tools for communicating the planning outcomes and must therefore be designed to transmit this information. Long documents represent a failure of the design process that is captured in the sentiments of Blaise Pascal:
I made this letter very long because I did not have the time to make it shorter.
Good luck and happy planning! If you believe that we can assist you to better align the core documents in your Asset Management system, we would be delighted to assist you. Simply request an obligation-free consultation with me or one of our other experienced consultants.
Looking for further training in ISO 55001 certification?
We offer a range of asset management courses, some of which specialise in ISO 55001 deliverables. If you are interested in reading more about our courses, you can do so by following the links below.
ISO 55002:2014 Asset management – Management systems – Guidelines for the application of ISO 55001; pp.