Following a period of boom, the main challenge that Maintenance, Operations and Reliability leaders usually face is to survive the inevitable cost cutting that happens during the next part of the cycle.
In response to investors' demands for higher profits during periods of downturn, senior management will demand the same or higher throughput while simultaneously reducing Operations and Maintenance budgets and resources. There is no doubt that Maintenance cost savings directly contribute to the bottom line of a company. However, Your company will hopefully have already learned that, where cost cutting is concerned, a butcher at a discount rate cannot replace a surgeon with a scalpel if you want to end up with a live patient.
Strong vision and leadership at middle management levels is essential to ensure that organisations don't enter the downward spiral of reactive maintenance, where reduced budgets lead to higher backlogs of preventive and predictive maintenance tasks, which in turn leads to more breakdowns, reductions in throughput and increases in maintenance costs. This then leads to even more pressure on maintenance budgets and headcount, resulting in even greater backlogs of overdue work – and so the "death spiral" continues. The outcome of this death spiral is not pretty; below budget throughput (and therefore revenue), above budget costs, an extremely ugly profit result and shareholder value destruction.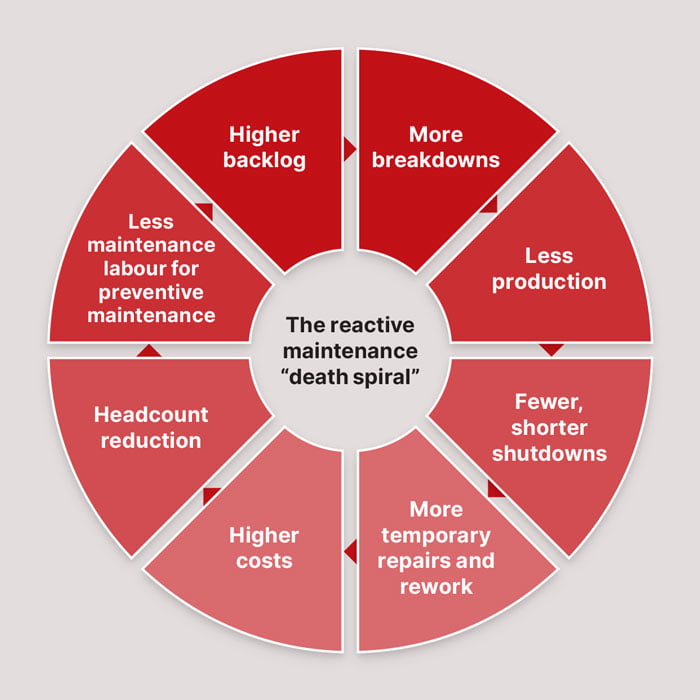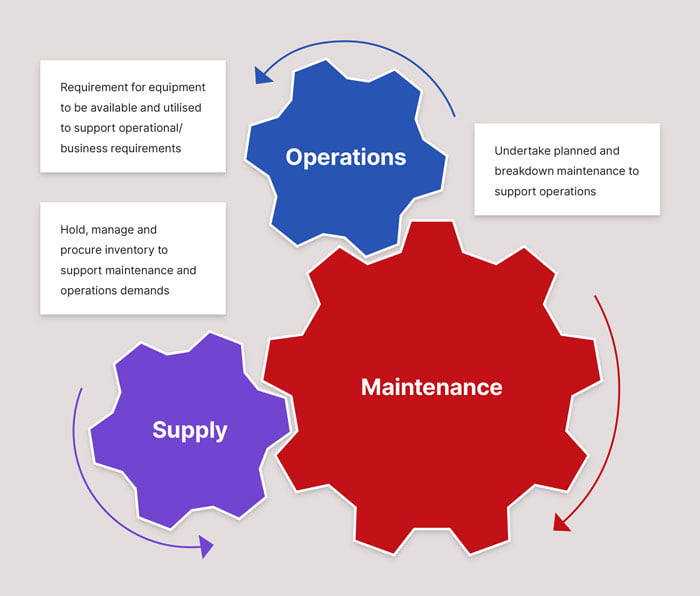 The key to ensuring that you don't enter this spiral of value destruction is to focus on maintaining and improving equipment and process reliability, rather than reducing costs. Improved equipment reliability results in improved cost and profit performance, and also has spinoff benefits in terms of fewer safety and environmental incidents, and lower requirement for management effort (to respond to frequent unplanned events).
Experienced, visionary leaders at this level get effective results in a cost-cutting climate because they have realised that:
The key lies in eliminating unplanned events
Behaviour changes are required for sustainable improvements
Change is required across all functional boundaries
The process is continuous improvement based and goal driven
Zest on a daily basis is required to imprint the message in heads, hands & hearts
Rewards and recognition of pro-active behaviour must replace rewards for fire fighting
Numerous helpful tools exist, but careful selection is required
The results depend on the focus they advocate
Guidance from experienced coaches helps fast track results.
Even the best jugglers can only handle a limited number of balls at a time, so effective leaders choose the areas they will spend their time and resources on very carefully. Analysis of plant performance and maintenance data will help identify the high yield areas that are most worthy of focus.
Experienced external coaches provide strategic advantage to such leaders through their support in:
Tailoring a suitable improvement process for the specific needs on your site
Data analysis to establish the focus areas that will yield the highest saving and returns
Value demonstration to gain top management support for the initiatives
Engagement of all role players for the initiatives
Cascading and translating company values into aligned, collaborative goals
Practical application of theory and tools
Establishing effective KPI metrics, along with visual progress and benefit tracking
Providing an objective perspective
Establishing an effective cultural change strategy
Focussing on innovators and first movers
Gaining early successes and capitalising on them
Demonstrating leader commitment through rewards & recognition
Continuously tracking and broadcasting progress, benefits and successes
Suggesting solutions to challenges
Highlighting potentially useful tools
Development & growth of an improvement culture
Creating action plans that ensure smooth transformation to new phases of activity.
Continuously identifying new opportunities
Improving equipment reliability really is the key to reducing operating and maintenance costs, improving profit. Further, gains can be achieved in the short term, and will also be sustained in the longer term – creating a true source of long-term competitive advantage.
To enquire about how we can assist you to improve equipment reliability and generate long-term sustainable competitive advantage for your organisation, please contact us.