PanAust is a leading copper and gold producer in Southeast Asia and has a portfolio of pre-development projects in Laos, Chile and Papua New Guinea. PanAust currently owns and operates the Phu Kham Copper-Gold Operation and the Ban Houayxai Gold-Silver Operation in Laos.
To support its growth objectives, while maintaining consistency and discipline across its operations, PanAust sought to establish a consistent approach to asset maintenance and reliability management across all their operations. We were engaged to partner with PanAust in achieving their objectives.
The program established a foundation of processes and procedures to ensure clear responsibilities and accountabilities for all functions within the maintenance organisation. It provided PanAust operations with a comprehensive set of maintenance strategies to ensure equipment function is preserved, and a baseline for performance measurement and improvement. This program provided PanAust with an important tool to assist in pursuing its growth plans.
Program overview
The improvement program started with an external maintenance audit, which we performed. The findings enabled PanAust to prioritise and scope the work for the remainder of the improvement project. Two streams of work were identified; a maintenance management process stream and an equipment reliability improvement work stream, illustrated in the diagram below.

Value realised
The documented processes would allow PanAust to:
Avoid re-inventing the wheel especially as people come and go in their business.
Assures stability and reliability of process
Know what to train their people in and who needs the training
Measure their ability and performance
Provide a starting point for ongoing improvement
Ensure the long-term future of PanAust operations in a competitive environment by making their operations effective and efficient
Adrian Bancilhon said "PanAust's success is founded on high performance outcomes in all that we do and a commitment to continual improvement. Going forward it is about everyone starting to identify the aspects of our business that we believe we can improve or eliminate to improve efficiency and eff ectiveness. Everyone needs to start thinking more about their own patch."
He added that "excellence in maintenance and reliability is about everyone doing the right things the first time and eliminating defects. We want our people to be involved in this very important program. We are confident that the maintenance and reliability improvement program will give us great leverage and improvement of our future operating performance."
Maintenance management
The objective of the maintenance management work stream was to establish a series of additional group standards to set direction and procedures for the execution of maintenance activities at PanAust's operations in Laos.
Business process flows were developed in order to clarify the end to end sequence of events and highlight key decision points within each process area. In order to create role clarity both inside and outside of the maintenance organisation, a RACI (Responsible Accountable Consulted and Informed) matrix was developed for each process area. This in turn was used to identify competency requirements for each role.
In order to facilitate the implementation of process blueprints, key templates and tools were developed, including meeting agendas, competency matrices and competency assessments.
In order to embed processes and change behaviours, training was delivered, in a classroom environment and then followed up with on the job coaching.
The diagram below shows how the content was developed and how the different documents relate.

During the initial audit, key process areas were identified for improvement. The content development process was targeted at each of the following elements within asset management to make up the Maintenance and Reliability Improvement Program: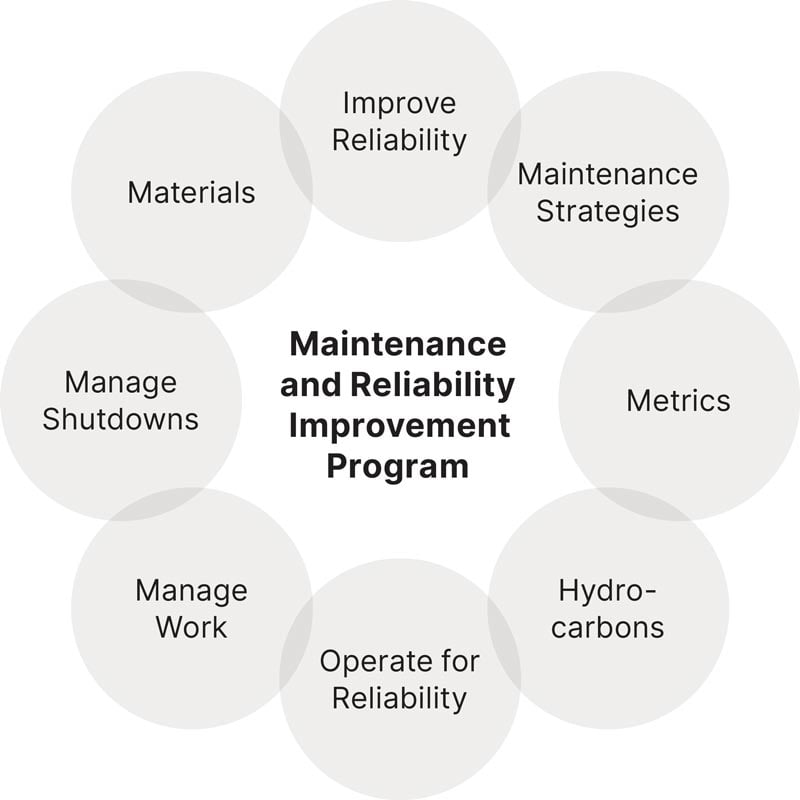 Equipment reliability
The objective of the equipment reliability improvement program was to eliminate the major causes of downtime by focusing on equipment that most impacted production output and cost targets.
This would be achieved by improving current maintenance practises and strategies using RCM principles. A full review was done on all maintenance strategies for mobile and fixed plant. In order to ensure all equipment is operated with long term reliability in mind an 'Operate for Reliability' program was established. This program aims to up-skill operational personnel in the basic principles of reliability and equipment care.
Ready to get the best value from your assets?
We offer a comprehensive range of consulting services relating to maintenance, reliability and asset management. If your needs are comparatively straight forward, we have standardised approaches for delivering these services that provide demonstrated results as quickly and cost-effectively as possible. Browse our services below to explore how we can help to achieve your goals.