Tiwest Joint Venture operates a Pigment plant in Kwinana Western Australia. The plant utilises a number of complex interconnected processes to produce Titanium Dioxide (TiO2).
Due to the nature of Tiwest's production process, a number of highly volatile and corrosive substances are both utilised and produced. This makes it imperative that safety be at the forefront of the preparation process. This necessitates adherence to strict processes during the planning and scheduling of all shutdown related work.
To this end, Tiwest had made some significant improvements to their shutdown planning, scheduling and execution processes over a number of previous shutdowns. In the lead up to this shutdown, Tiwest wanted to ensure these improvements were leveraged, and further improvement opportunities were identified.
To assist in achieving their goals, Tiwest sought to engage our services.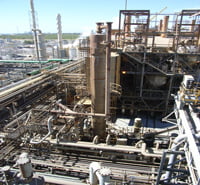 We were able to provide the services of experienced Mechanical Maintenance Planner and Work Schedulers. These highly skilled consultants completed the shutdown planning team and worked seamlessly with other team members to ensure the successful preparation of all shutdown work scope aspects.
Our consultants integrated quickly, and were able to understand the complex interconnectivity of the Pigment Plant's sub processes. This enabled the identification of a number of further improvement opportunities, enabling Tiwest to add additional value to their shutdown planning, scheduling, and execution processes during the shutdown preparation phase.
Midway through the shutdown preparation phase, it became necessary to bring the shutdown execution date forward. Our consultants adapted quickly and assisted in conducting a readiness assessments for all jobs included in the shutdown work scope. This assessment resulted in a minor reduction to the shutdown scope volume. This meant planning and scheduling efficiency gains need to be identified and implemented quickly in a time constrained environment.
Our consultants remained focused and ensured the revised shutdown work was planned and scheduled with the high degree of detail required. This ensured the multi-disciplined work force were able to successfully execute the shutdown within 2% of the planned duration of first production line off, to first production line on, and complete all work inside the shutdowns budget.