Over recent years, we have seen an increasing uptake of Asset Performance Management (APM) Systems in capital intensive industries. We have supported clients to develop and refine their APM business requirements, test the market for suitable solutions, and then proceed to implementation. We are also actively using client APM systems to develop and optimise equipment maintenance strategies for greenfield and brownfield assets.
Given the increasing interest in APM systems, we want to share with you our observations and perspectives on Asset Performance Management and will cover what Asset Performance Management Systems do, where they fit within the Asset Management information systems landscape, what businesses hope to achieve by implementing APM solutions, the most common challenge we see to successful uptake, and how to avoid them, and finally the things that you can do to ready yourself for implementation.
This is the first of three articles relating to Asset Performance Management, and will aim to answer the following questions:
What is an asset performance management (APM) system?
Where does it fit in the asset management information system landscape?
What should businesses hope to achieve through asset performance management implementation?
For further elaboration on the topic of asset performance management systems, please see the other articles in this series:
What is an APM System?
Asking what an APM solution can do is a lot like asking how long a piece of string is. There are several APM solutions in the market, and each quite different in terms of the complete range of functionality offered.
So, it is probably easier to consider what they have in common.
APM systems all aim to provide tools to improve equipment availability and reliability while reducing risk and cost.
They typically capture data related to asset condition which includes work order history, delay and loss accounting, online condition data via plant historians, and batch condition data such as oil lab results and inspection results to provide a holistic view of the asset performance. This data is then able to be used for reliability analytics and asset health visualisation, to support development and fine tuning of various asset models including lifecycle costing and reliability modelling, and as the base data set to support the various APM capabilities shown in Figure 1.
From an asset health and condition monitoring perspective, APM systems provide the ability to develop relatively complex 'rules' based on available data to flag the requirement for maintenance or other interventions to the user, or to automatically trigger work order etc from within the system.
APM solutions also provide tools to support key reliability engineering approaches including Maintenance Strategy Development, Asset Integrity Management and Defect Elimination.
For maintenance strategy development, APM solutions typically provide tools to support criticality assessment, various strategy development approaches from FMEA to RCM, some tools are then able to optimise these strategies based on cost or risk using simulation tools, and they then provide the ability to package work for deployment in the EAM/ERP system.
In the Defect Elimination process, dashboard and reports flag to the user chronic and acute events worthy of further investigation, provide tools to support the root cause analysis process, and tools for capturing actions and defining an appropriate workflow and escalation process. In some cases, this will require optimisation of existing maintenance strategies or changes to inspection programs.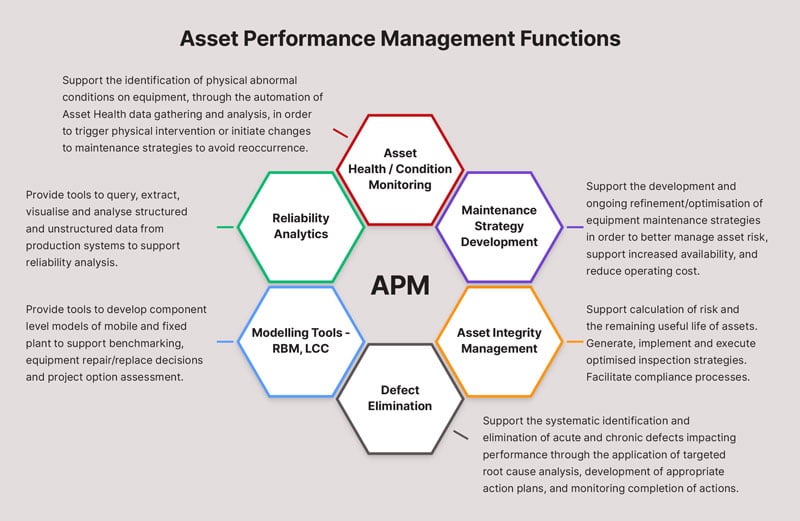 Most solutions also support Asset Integrity Management providing tools to support integrity management, process safety management including functionality to develop and manage risk-based inspection programs.
Where does APM fit from a system view?
As described in the previous section, APM solutions consume and produce a significant amount of data.
Figure 2 is a simple representation of where an APM solution fits within the typical systems landscape.
Where the ERP/EAM provide the transactional platform to support the work management process, APM sits beside it consuming work order history, changes to the asset hierarchy etc to enable optimisation of the maintenance strategies in the ERP, and these optimised strategies are then pushed back to the ERP/EAM for execution. Where asset health is used to trigger work orders, these are also pushed to the ERP/EAM for execution.
The APM solution also ingests data from various production systems including production data, loss and delay data etc. It also ingests asset condition data. This can range from batch data such as condition reports, oil sample results, through to inspection results from work orders, through to alarm and event data from production systems and even streaming sensor data from machines.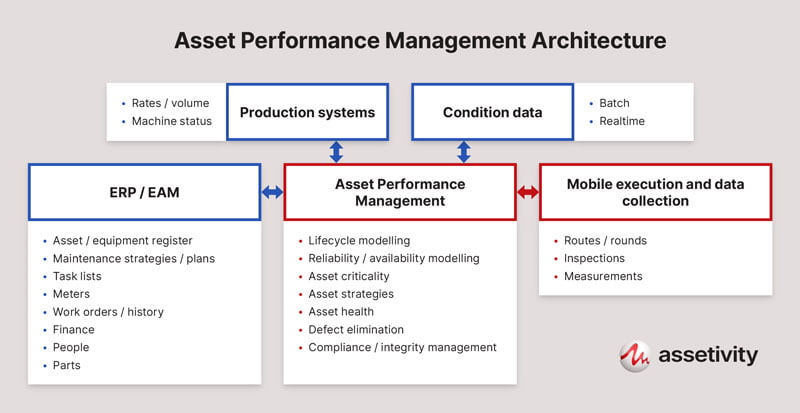 The APM solution also ingests data from various production systems including production data, loss and delay data etc. It also ingests asset condition data. This can range from batch data such as condition reports, oil sample results, through to inspection results from work orders, through to alarm and event data from production systems and even streaming sensor data from machines.
Some APM solution even offer mobility tools to support data collection such as pushing out inspection routes and recording inspection results and photographs etc, and even provide tools for scheduling work to users.
What do businesses hope to achieve from APM?
Most businesses start on the APM journey because they are looking for a tool to support asset health monitoring, or a tool to develop and optimise maintenance strategies, or a tool to support asset integrity management. They have a reasonably mature maintenance execution toolset and see one of the above processes as their next step in the reliability journey, and APM as the tool to support this, and then they grow into the other capabilities offered.
However, some businesses that are reasonably mature in the reliability domain are looking to consolidate the various tools they are using to provide a 'one stop shop' for their reliability engineers.
Most are looking for enterprise solutions capable of running a client/server or cloud architecture to support global access to a central data repository, and all the other features that come with an enterprise solution including security models, multi-language, high levels of responsiveness, intuitive user interface etc.
There is generally an expectation of seamless integration to and from the ERP/EAM and with production systems.
Finally, businesses usually expect to streamline and simplify their reliability engineering processes.
Do APM systems live up to expectations?
Having observed many implementations, the answer to whether APM systems live up to expectation is a less than comforting 'mostly'. However, as we will explore in the next article in this series, this has less to do with systems capability and more to do with unrealistic expectations around functionality and integration, lack of clarity about fit with other business systems and underestimating the extent of change management required.
Our view is that these issues are readily addressed through properly managing the business requirement definition phase of the implementation process, a properly thought through deployment strategy, and an appropriate focus on change management and training
Given our exposure to APM systems both though implementation and as an end-user, we are well placed to support your business in exploring the potential for application of an Asset Performance Management system.
Conclusion
In this first of two articles relating to Asset Performance Management we have explored what an APM system does, where it fits in the Asset Management information system landscape, and what businesses should hope to achieve through implementation of an APM system.
In the next two articles, we will explore:
If you would like to receive early notification of publication of future articles, sign up for our newsletter now. In the meantime, if you would like assistance to explore the potential for an Asset Performance Management system within your business, or to identify opportunities to optimise the use of your existing APM system, please contact us. We would be delighted to assist you.