We had a thoroughly rewarding day volunteering in the Foodbank warehouse.
Foodbank is a conduit between the food industry's surplus food and the welfare sector, distributing food to the needy. They rescue surplus food and groceries from farmers, manufacturers and retailers and distribute it to charities and community groups who then use it to help people in need.
The efficiency and minimisation of waste behind this idea is very much aligned with our values – we hate waste! A driving force behind our consulting philosophy is to develop systems and processes that promote efficiency and reduce waste – whether it be waste of food, waste of time, wasteful systems, or waste of the earth's resources.
Our team put their skills, expertise and strategic thinking into packing pizza and stacking sausages with maximum efficiency. Our consultants quickly ascertained the optimum way to operate and became a lean, mean packing and stacking machine.
According to this Champions123 report, one-third of the world's food is lost or wasted, costing the global economy $940 billion every year and emitting 8 percent of annual greenhouse gases. At the same time, 800 million people do not have enough to eat.
We applaud Foodbank for helping reduce food loss and food waste in Australia by redirecting fresh produce and food that would otherwise be wasted to those who need it the most.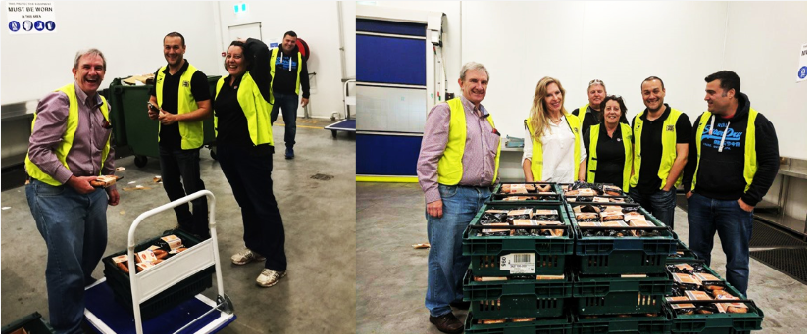 Volunteers are essential to Foodbank – it wouldn't be possible to feed as many people as they do without help
Volunteers are involved in all aspects of the operation, including picking and packing food orders and stocking the warehouses. We highly recommend volunteering with Foodbank – it's a great team building exercise that also makes a positive social and environmental impact. We had a fantastic day – although it may be some time before any of us want to see a frozen pizza again!